Manufacturing & Fabrication Services
Sikky is a leading manufacturer known for its high level of precision and quality craftsmanship. Using only the best raw materials and modern manufacturing methods allows Sikky to produce some of the best products in the industry. Every part we make is engineered and designed in house. We innovate, design, and manufacture to exceed the standard. Currently we work with some of the top names in the automotive industry. Sikky is focused on our mission to bring industry leading production processes, quality, competitive pricing, and customer service to companies that want the very best and won't settle for less. Let us take that same passion and expertise to design, test, and manufacture your next part or product. See some of the many services we offer below.
CAD/CAM Design using Solidworks — Water Jet Cutting — R&D and Testing — Private Label Manufacturing — CNC Mill and Lathe Machining  CNC Laser Cutting — CNC Press Brake Sheet Metal Bending — CNC Mandrel Tube Bending — Welding
[contact-form-7 id="2944″ title="Service quote"]
Toll Free :: (877)-SIKKYHP
Local :: (410)780-0009
Fax :: (443)438-3204
Email:: sales@sikky.com
Hours of Operation:
Monday – Friday
9:00 A.M. – 6:00 P.M.
Contact Us
6600 Moravia Park Drive, Suite D
Baltimore, MD
21237
Toll Free: 1-877-SIKKYHP
Local: 410-780-0009
Email: sales@sikky.com
Like us on Facebook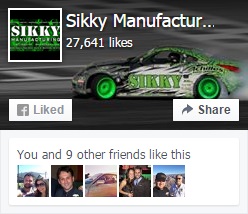 Follow us on Instagram