Current
&

Recent Turn Key Builds
Spotlight Build – '69 Pontiac GTO
Our goal with any build is to get the owner exactly what they want while maintaining maximum reliability. At first glance this build may seem like a traditional restomod. The reality is it's quite different.
We're updating the tired suspension and modernizing it to vastly improving the cornering abilities of this car. Maximizing traction is also a key goal since this GTO will receive a new 525 hp LS3 mated to a T56 magnum transmission.
As far as the engine placement we opted to do things the Sikky way and develop a mount kit that won't just get the engine in the car, but that actually placed it factoring in weight distribution. More details and videos coming soon!
How does the process work?
Typically we start the process off by having a phone consultation with the customer in regards to their project. We will go over the needs, goals and budget for the project and work with you to evaluate different options that are available. From this point we will work up an initial estimate for the customer allowing them to see a rough cost for the project. Typically these estimates are within 10% of the total final cost of the project. If the customer is happy with the quote, at this point we will schedule a drop off date and give a total for the deposit required for the job. Typically we ask for at least 50% of the parts be paid for on drop off to allow us to order most of the larger components for the car.  You will be contacted later for the remaining 50% of the parts bill on the job. Once the parts arrive typically the car will be completed within 4-6 weeks (depending on the job specifications). Final payment for labor and any additional expenses will be paid upon pickup of the vehicle.
Can I bring my own engine?
Yes! We will work with a customer supplied engine and transmission.
What engines are available for this swap?
Any engine in the LS family will work for this swap, below is a chart going over what engines fit with our engine mounting kit.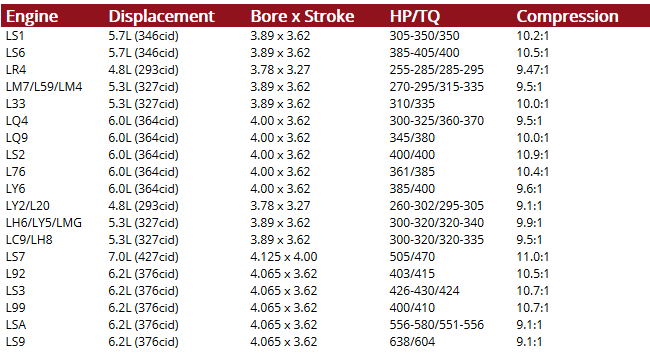 Do you offer custom built engines?
We have several engine builders we work with to offer custom engines built to suite our customers needs. Basic engine modifications such as heads, cam changes, intake upgrades, and such are also available in house. Our sales team can work with you on pricing and options.
What other transmission options are available for these packages?
We often get asked what transmissions are available for these swap applications. Typically speaking we prefer to use either a 4L60E, T56, or the T56 Magnum as we offer cross members and driveshafts for these applications. If you prefer to use a TR6060 or a 4L80, please contact us for details and pricing and fitment information. Clutch less race transmissions are available upon request as well, please contact our sales staff for information.
Can I make changes to the build during the process?
Yes, changes can be made to the build during the process. However additional labor will be added to the build to cover the extra time if any work needs to be re done.
Can other upgrades be done to the car during the build process?
Yes, we do install other upgrades to vehicles as well such as brakes, wheels, suspension, aftermarket electronics, chassis work, aftermarket EFI systems, forced induction systems, drive line upgrades and more!
Will I be able to keep my old motor and parts?
All parts removed from the vehicle will be stored on a pallet during the vehicles stay at our facility. Parts need to be picked up within 14 days of vehicle completion.
I live far away. Do you work with any transport company's?
We work with several automotive transport company's and offer shipping any where in the world. Please contact our sales staff for pricing.